The London Air iPhone app 2.0 displays the latest air pollution levels recorded at over 100 monitoring in the London Air Quality Network.
New features such as Maps, My Sites and Push Notifications keep you up to date with London's air quality where you are.
---
---
iPhone Application Demo
---
Alerts
Subscribe to a site to receive notifications when pollution levels change to Moderate or High.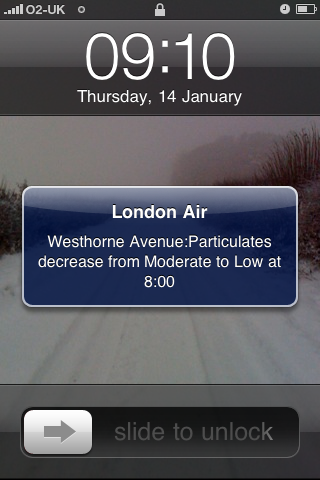 ---
Maps
Fully integrated with Google Maps including 'locate me', satellite and hybrid views and London postcode search.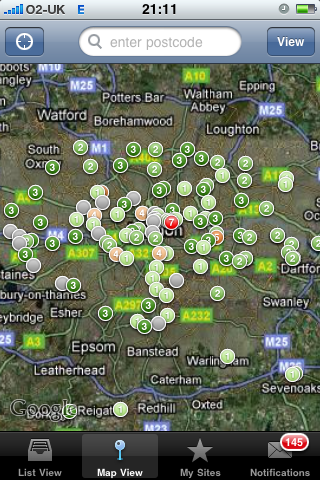 ---
My Sites
Pin individual sites to the My Sites page for quick and easy access.
---
This application was designed by the Environmental Research Group at Imperial College London; London's leading air quality information and research group.
This application is possible thanks to the continued support and participation of the boroughs of London in the London Air Quality Network.
For support, issues or suggestions email erg-itgroup@imperial.ac.uk.
---
Privacy Notice Summary:
Who this is for: You must be at least 13 years old to use this service.
What we collect: We store your email address
Who we share it with: We use "Campaign Monitor" to store it, and do not share it with anyone else.
More Info: You can see our full privacy notice here
AirMail newsletter
The latest news and research from ERG: View the archive